Sir Keith Park bronze statue unveiled at Waterloo Place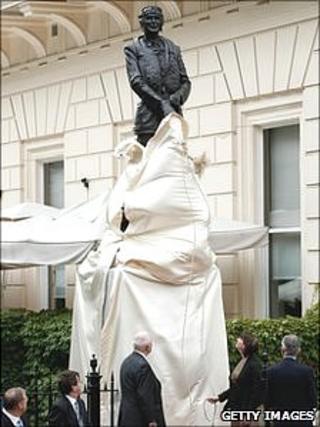 A bronze statue of the Battle of Britain's "unsung hero" Sir Keith Park has been unveiled in central London.
Air Chief Marshal Sir Keith Park commanded RAF squadrons that defended London and the South East from Luftwaffe attacks in 1940.
The 2.78m (9ft) statue by sculptor Les Johnson was unveiled in Waterloo Place in Haymarket on the 70th anniversary of Battle of Britain Day.
Sir Keith's family and 14 veterans of the battle were at the event.
Wing Commander Bob Foster, 90, and Sir Keith's great-great niece, Leigh Park, unveiled the memorial.
The permanent memorial for Sir Keith, who came from New Zealand, is the culmination of a three-year campaign to commemorate the contribution of the war hero.
The statue stands close to New Zealand House and faces the direction pilots would have looked while waiting for the Luftwaffe in 1940.
A flypast by a Spitfire and a Hurricane started the ceremony.
In total, 544 RAF personnel from Fighter Command died during the Battle of Britain which ended Hitler's attempt to gain air superiority over the skies of southern England.
Terry Smith, chairman of the Sir Keith Park Memorial Campaign, said: "It has taken us 70 years since the Battle of Britain to give expression to our collective thanks for what Keith Park achieved.
"Keith Park was an unsung hero, or at least he was until now.
"They (the pilots) fought to keep this country and our people safe," he added.
Chief of the Air Staff, Air Chief Marshal Sir Stephen Dalton, said Sir Keith was a "man without whom the history of the Battle of Britain could have been disastrously different".
"He was a man who never failed at any task he was given. He gave all to whatever he did."
New Zealand's Defence Minister Dr Wayne Mapp, who was at the ceremony, said: "The unveiling of Sir Keith Park's statue reminds us today of the events 70 years ago when our nations stood in peril.
"In this battle, freedom and democracy were at the precipice.
"The valour of the pilots of both our nations, and of other countries, won the day."