London mayor requests C-charge exemption for Popemobile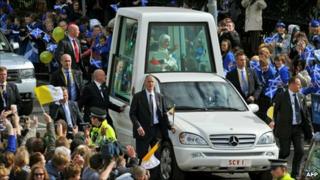 London Mayor Boris Johnson has asked Transport for London to exempt the Popemobile from the congestion charge.
The Mercedes, which includes a bullet-proof glass box with seating for the Pope and two others, would have been charged £8 per day in central London.
Mr Johnson will formally welcome Pope Benedict XVI to London when he arrives at Heathrow later.
The pontiff will travel in the Popemobile, registration SCV1, during parts of his two-day stay in London.
A spokesman for the mayor said he had made the request of Transport for London ahead of the Pope's arrival.
The congestion charge was introduced in February 2003, with drivers initially paying £5 a day.
The current £8-a-day charge was extended to parts of west London - covering most of Westminster and Kensington and Chelsea - in 2007, but that is set to be scrapped.
Mr Johnson has proposed to raise the day charge for central London from £8 to £10 by January 2011.