Plan to downsize London 2012 stadium 'flawed'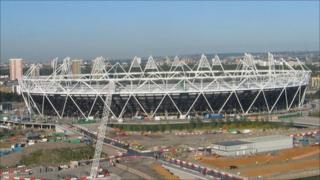 A plan to downsize the Olympic Stadium after the 2012 Games is "flawed" and "not in the interests of the East End", a London Assembly committee has said.
The venue in Stratford is being built to seat 80,000, but the capacity could be cut to 25,000 after the Olympics.
The Economic Development, Culture, Sport and Tourism Committee said a larger football venue would be better than athletics for regeneration.
A 2012 spokesman said the stadium's design suited "a range of uses".
Committee chairman Len Duvall said the Olympic Park Legacy Company (OPLC) should have carried out an "open and thorough analysis" of various options earlier.
'Flexible' design
He said: "Put simply, an elite 25,000-seat athletics stadium is not, and was never going to be, in the long-term interests of the East End or of the taxpayer.
"With the right tenants, the Olympic Stadium and media centre have the potential to bring thousands of new jobs to the East End.
"The only sustainable future for the stadium is regular, high-capacity events and realistically that means football or rugby."
He said reducing the capacity to 60,000 would have been more viable and added that abandoning talks with football clubs in 2007 before resuming them this year was a wasted opportunity.
West Ham United are among the 150 bidders who want to move into the £547m stadium.
The Olympic Delivery Authority spokesman said: "An athletics legacy was always a bid commitment.
"During early discussions with West Ham and others there was no firm proposal, let alone any clear capital commitment made, for the stadium.
"The stadium has been designed in a flexible manner so that it is able to function well for a range of uses post-Games."
'Legally binding'
The £308m Olympic media centre would also need to be converted and better connected to transport links to be viable for tenants to move in later, the report said.
Formal bidding for it will open soon.
An OPLC spokesman said: "The press centre represents prime office space, while the broadcast centre has been built with the flexibility to be reconfigured to suit market demand.
"There has been early interest in the legacy use of the buildings from a range of sectors including media, creative, retail, education, sports activity, culture and office use."
A spokeswoman for London Mayor Boris Johnson said the "athletics legacy" was a "legally binding agreement with the International Olympic Committee".
"The approach followed to date by the Mayor and Olympic organisers has the regeneration of the East End and a secure and solid legacy post Games at its very core," she added.