Rio Ferdinand's plea after friend shot dead in Peckham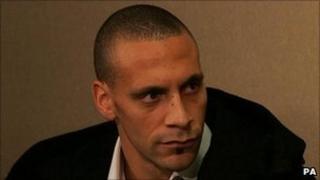 Manchester United's Rio Ferdinand has appealed for information after one of his close friends was shot dead.
Rio McFarlane died from a bullet wound to his chest as he went to pay his respects to a friend who had died in a motorbike accident just hours earlier.
The 18-year-old, who was a promising young footballer, died at the scene in Peckham, London on 7 September.
The United defender said: "The family would love to see some closure to this horrific event."
Speaking to the BBC with the victim's brother, Anthony McFarlane, he said fear cannot be an excuse to stop people from reporting the murder.
"I have known the family for years since I was a kid, I was so devastated when I found out, I was in shock and at first I couldn't believe it was Rio.
"Someone must have seen something, at the time there were lots of kids around.
"Another kid was killed in a motorbike accident just a few hundred yards away and there were plenty of people around paying their respects.
Mistaken identity
"Someone must have seen someone going to and from the place of the crime."
The teenager, who had football trials at both Arsenal and Blackpool, was shot in what is believed to be a case of mistaken identity.
His brother said: "It's very difficult to put into words what we are going through as a family.
"We are devastated we keep on asking the question why?"
Living close to where his brother was shot, he dashed to the scene in Pearse Street with his wife.
"We got there and I saw my dad, and I said: 'Where is Rio, is he ok?'
"My dad said: 'Sorry son, your brother is dead'."
Four people have been arrested, one has been released without charge and three have been released on police bail.
Metropolitan Police appealed for anyone with information to come forward.
Mr McFarlane added: "Hanging round with a gun is not acceptable, guns don't belong on streets. We are never going to be safe if they can fire as they wish.
"My little brother was a special boy, he was infectious, people would instantly take a like to him, he had a good heart.
"Whoever did this clearly does not have respect for human life."