Parking wardens mark 50 years patrolling London streets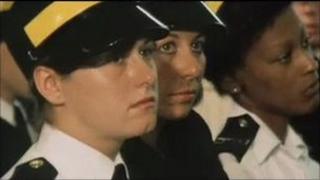 Parking wardens have marked 50 years of patrolling London's streets.
The capital's first 40 traffic wardens, as they were originally known, were deployed in Westminster in central London on 19 September 1960.
The wardens - who wore distinctive yellow cap bands - could hand out fines of £2 for illegally parked motorists.
Today approximately 200 parking attendants - now called Civil Enforcement Officers - patrol Westminster each day.
Parking is now under the jurisdiction of the local council but it was originally under the Metropolitan Police's control.
The very first ticket issued was to Dr Thomas Creighton, who was answering an emergency call to a West End hotel to help a heart attack victim.
The medic's Ford Popular was ticketed but was eventually let off the fine.
'Difficult situations'
Meanwhile, the latest figures show that attacks against parking wardens by disgruntled drivers in Westminster have fallen to a three-year low.
The number of reported assaults, threats of violence and incidents of verbal abuse has dropped from an average of 21 incidents per month in 2007 to five a month so far in 2010.
Westminster Council said the reduction in attacks against attendants was because of new training and safety measures.
The council's parking wardens have been given Global Positioning System (GPS) devices which feature panic buttons so they can alert the police if they are in need of urgent help.
Charelle Lander, who has worked as Westminster parking attendant for almost three years, said: "Some motorists can be very rude and at times aggressive."
"But the training we are provided at the start of our induction and the support we get from our supervisors and colleagues does help us deal with these difficult situations."