Two arrests after London toddler's flat fire death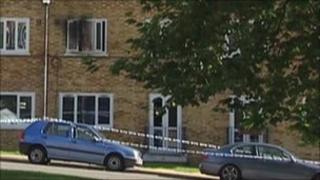 A man and a woman have been arrested following the death of a 19-month-old girl in a fire at a south London flat.
A family of five were rescued from the first-floor flat in Arnould Avenue, Camberwell, on Saturday morning.
Two women, an 11-year-old girl, a four-year-old boy and the toddler were unconscious. A murder inquiry was launched after the toddler later died.
A man, 27, and a woman, 28, were arrested at an address in south London on Saturday night.
They remain in custody at a south London police station.
Police were called to the two-bedroom flat at about 0440 BST on Saturday.
The 11-year-old girl remains in hospital in a critical condition.
The four-year-old-boy and the two women, aged 23 and 45, remain in a serious but stable condition.
A post-mortem examination into the toddler's death has been arranged for Monday.
Acting Detective Chief Inspector Rick Murphy, from the Metropolitan Police, said: "This fire has wrecked the lives of those involved."
He added that he was "looking to the community" for help.
Emergency crews said the flat was completely destroyed in the blaze.
Correction 22 September 2010. This story was amended after an earlier version, based on information received by the Metropolitan Police, stated an incorrect age for the girl who died.