Pair still held after London toddler's flat fire death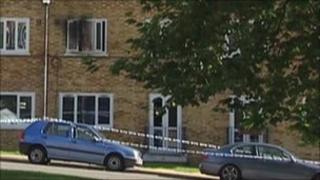 Detectives have been granted an extra 24 hours to quiz two people over the death of a toddler in a fire at a south-east London flat.
Siariah Letang died in hospital following the fire, in Arnould Avenue, Camberwell, early on Saturday.
A man, 27, and a woman, 28, were arrested at an address in south London.
Two women, a girl aged 11 and a four-year-old boy were found unconscious unconscious in the flat along with Siariah.
The emergency services were called to the two-bedroom flat at about 0440 BST on Saturday.
Fire crews said the flat was completely destroyed in the blaze.
The other family members rescued from the fire remain in hospital.
The 11-year-old girl was in a critical condition, with the four-year-old-boy and the two women, aged 23 and 45, said to be in a serious but stable condition.
A post mortem examination into the toddler's death was due to take place on Tuesday.
Police confirmed she was 19 months old.
The Metropolitan Police said they are "looking to the community" for help.