Diners 'unknowingly eating Halal' at Wembley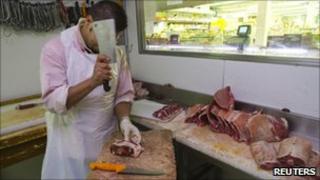 Sporting venues across London routinely serve Halal meat to customers without informing them, it has emerged.
Many Muslims only eat Halal meat, which is from animals whose throats have been cut to drain them of blood while they are still alive and conscious.
But the RSPCA said the form of slaughter was cruel if the animals were not stunned.
Twickenham and Wembley Stadiums and Guy's and St Thomas' Hospital admitted they served it without telling diners.
A spokesman for Twickenham Stadium in south London said: "We do use Halal on match days.
"We are currently reviewing if we should make our customers know this."
Wembley Stadium issued a statement which said: "All the beef, chicken and lamb sold is Halal.
"The Halal meat is not labelled to customers."
And a spokesman for Guy's and St Thomas' Hospital in south-east London said: "The chicken we use is Halal and people using the canteen would know if they asked a member of staff directly."
'Should be mandatory'
The National Secular Society said labelling a meat's source should be a legal requirement for eateries.
Spokesman Keith Porteous Wood said: "The legislation should extend the requirement for labelling to include not just food sold in shops, but food sold in restaurants.
"It should be mandatory."
But the Halal Food Authority insisted the technique was not cruel to animals.
Spokesman Masood Khawaja explained: "The blade is put to the front of the throat and the carotid artery, wind pipe and jugular veins are cut at the same time with a sharp knife."