Shot man Mark Saunders 'not allowed' to speak to friend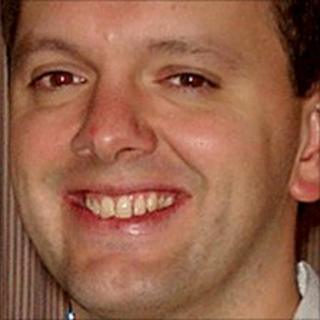 A barrister who was shot dead by police in a stand-off, was given no opportunity to speak to his friend, Westminster Coroner's Court has heard.
Mark Saunders, 32, who had been firing a shotgun, was hit in the head and chest by five police bullets at his Chelsea home in 2008.
His friend Michael Bradley said he was told by police that he could not go to speak to the man, for his own safety.
He said the response from one officer was "instant and negative".
Mr Bradley added that there was no discussion, despite repeatedly asking if he and Mr Saunders' wife could go to the house, as police were in charge and they were "not being given an option".
The man, who was also Mr Saunders' colleague, told the court knocking at the front door of the flat would have been an obvious way of calming the situation.
'Guns everywhere'
Mr Bradley said: "It was like something out of a bad film. Armed police with guns everywhere, helicopters and things.
"Liz and I thought it was the best and simplest way to make a calm connection with Mark."
Mr Bradley also received a four-minute silent phone call from Mr Saunders at about 1900 BST, before he and Mrs Saunders were asked to turn their phones off.
The court heard Mr Saunders had been communicating with police officers via notes, one of which said: "Please, I want to speak to my wife".
The barrister had been drinking heavily in the hours before he was shot dead, the court heard.
Dr Stephen Morley told the inquest the level of alcohol would have had a "significant" effect on his behaviour.
He had regularly taken cocaine in the last months of his life, tests showed.
The court heard Mr Saunders had been battling a binge drinking problem for several years.
Toxicology tests revealed he had up to 225mg of alcohol in 100ml of blood. The legal limit for driving in 80mg.
'Deep in drink'
Mr Bradley described hearing the first shot fired while having a "meandering" telephone conversation with Mr Saunders.
He said it was difficult to understand Mr Saunders who was "deep in drink" and slurring his words.
"The phrase I remember was 'shooting out the window'," Mr Bradley told the inquest.
"Very shortly after that there was a bang and immediately after the bang the phone went dead.
"There was not even a second. It was almost instantaneous."
After dialling 999 Mr Bradley went to Chelsea where he met Mr Saunders' wife Elizabeth.
Dr Morley, who carried out toxicology tests on Mr Saunders, told the inquest the level of alcohol in Mr Saunders' blood compared to that of a "Saturday drunk".
When asked how someone who had consumed that amount of alcohol would act he said: "They are likely to be very drunk and may not have complete control of all their faculties."
Tests on his hair and urine showed he had repeatedly taken cocaine in the six months leading up to his death but not within 12 hours of the shooting.
Police were called to his home in Markham Square after neighbours saw him firing a shotgun into a neighbouring flat.
The officers maintain they were firing in self-defence, or to protect others.
Mr Saunders' family maintain he presented no risk to the public.
The hearing continues.