2012 Olympics: Bid to change marathon route criticised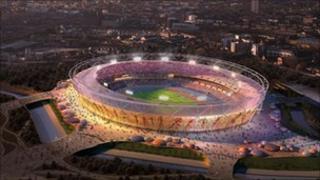 Plans to change the marathon route at the London 2012 Games have been criticised by an east London council.
Olympic organisers (Locog) want to move the finish of the road race from the stadium in Stratford, east London, to the Mall.
Locog said it was looking to create the best experience for spectators and athletics and to profile London. A decision is due in October.
Newham Council said it was disappointed the move was being considered.
Paul Brickell, Newham Council's executive member for Olympics, said east London was as historically important as other areas of London.
"The route comes out from Aldgate, through Whitechapel and Stepney and Bow to Stratford and that is a fantastic street with 1,000 years of history.
"The stories about that street are incredible and I reckon any marathon commentator could make it really interesting for a world audience."
He also said a route through east London would be an act of goodwill to people living there who have been affected by preparations for the Games.
"This is a golden opportunity for those residents to be part of the greatest show on earth for free, on their doorsteps.
"If these plans go ahead there will be a lot of disappointed residents in east London."
'Fresh face'
A Locog spokeswoman said they were looking at a route that takes in central London landmarks several times to give people the best opportunity to experience a free event.
Under the proposed new route runners would pass landmarks such as the House of Parliament, St Paul's Cathedral and Tower Bridge before finishing in the Mall.
But London Assembly member John Biggs said: "The Olympic Games were won on the basis that they were going to be regenerating east London, bringing a fresh face to a rather run-down area part of our capital.
"It does seem rather ridiculous that the Olympics should turn its back on it for one of the main events."
Any change to the route will have to be agreed by a number of organisations including the International Olympics Committee, the international athletics body IAAF and several London councils.