Man 'killed' after girlfriend's Halloween hat snatched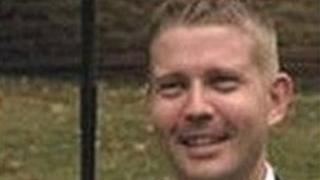 A man died when his head was kicked "as if taking a penalty" after he tried to get his girlfriend's snatched Halloween hat back, a court has heard.
Ben Gardner, 30, was punched to the ground and then kicked in Sutton, south London, on 31 October 2009, the Old Bailey was told.
Allanna Devine, 28, was also punched as the attackers ran off, jurors heard.
Daniel Ransom, 21, Ross Collender, 21, and Jordan Dixon, 18, all of Carshalton, south London, deny murder.
Verbally abused
Mr Gardner, an IT expert who worked for insurance firm Legal & General, had been to a club with Miss Devine to celebrate her birthday.
In the early hours of the morning, Miss Devine was waiting for him outside a kebab shop in when a group of men snatched a pirate's hat and black wig she was wearing, the court heard.
Brian Altman QC, prosecuting, said she did not react but later, as the couple approached her home, they saw three of the group near a Halloween hat on the ground.
Miss Devine asked for her hat back but was verbally abused, said Mr Altman.
Then Mr Collender "suddenly and unexpectedly" punched Mr Gardner on the left side of the face, Mr Altman said.
Mr Gardner was then punched by Mr Dixon and fell onto his back in the road, the court heard.
Brain damage
Mr Altman said Mr Ransom then kicked an "utterly defenceless" Mr Gardner's head - described by witnesses as being like someone taking a penalty kick.
He died in the early hours of 1 November from "catastrophic brain damage".
Mr Altman told the jury: "It was an all too familiar story of town centre loutish behaviour."
Mr Altman said Mr Ransom and Mr Collender had been arrested soon after the incident but Mr Dixon evaded arrest until January this year.
Sarah Davey, 41, of Sutton, denies assisting an offender by harbouring him.
The trial continues.