Fresh images released in London park murder case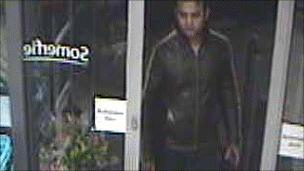 Police have released images of a man they want to trace over a woman's murder in east London and three other sex attacks linked to the killing.
Michelle Samaraweera, 35, was raped before her body was found in Queens Road park in Walthamstow in May, 2009.
DNA evidence has confirmed her killer had carried out three other rapes.
Police want to identify a man captured by CCTV in the Somerfield supermarket in Markhouse Road on the night Miss Samaraweera was attacked.
The man is described by police as being of Asian appearance, or with dark skin and dark hair, and is aged between 30 and 45.
Det Ch Insp Stewart Hill said: "Michelle was callously murdered as she returned to her boyfriend's address after stopping by at a local supermarket.
"We have been trying to trace a man who entered the shop on the same night as Michelle and we're keen to speak to anyone who can help us identify him.
"Due to the clarity of the pictures we're confident someone will know him and know his current whereabouts."
Officers were alerted to a series of attacks on women in the E17 area after starting the investigation into Miss Samaraweera's death.
Her body was found in a small play area in Queen's Road park, close to the junction with Markhouse Road. She had been raped and strangled.
Following a review of previously reported sex attacks police were able to use DNA evidence to link three sex assaults, which also happened in Walthamstow in 2009, to her murder.
The first victim was a 59-year-old woman who was raped at her Queens Road home on 24 March by a man who forced his way into the property.
In the second attack, which happened in the South Grove area on 22 April, a 46-year-old woman was forced into an alleyway near Lea Bridge Road and raped.
A third woman, aged 32, was attacked in the grounds of St Saviours Church in Markhouse Road on 29 April at about 0130 BST.
Detectives have also previously appealed for witnesses and information about another two assaults on woman in the South Grove and Markhouse Road areas in March 2009.
DNA evidence from the cases have not been linked to the murder but they were similar to the other four attacks.
Five men arrested in connection with the inquiry have all been released without charge.
Related Internet Links
The BBC is not responsible for the content of external sites.