Talks collapse over planned Tube strike in October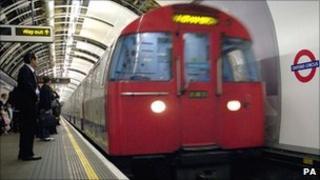 Talks to avert next month's Tube strike in London next month have broken down.
London Underground (LU) said it "cannot agree" to unions' demands about the future of 800 ticket-office employees.
But one of the two unions involved accused LU of "talking nonsense" over its plans to reorganise working practices, saying safety would suffer.
A 24-hour walkout is planned from the evening of Sunday 3 October. A strike earlier this month led to severe disruption for commuters.
Every line except the Northern Line suffered delays or cancellations.
Six hours of talks were held on Wednesday between LU and leaders of the Rail, Maritime and Transport (RMT) union and the Transport Salaried Staffs Association (TSSA).
The unions are fighting plans to scrap jobs in ticket offices and have argued security could be compromised for passengers.
But Tube managers - who had hoped to resume negotiations on Friday - have insisted all stations will still be staffed and promised to avoid compulsory redundancies.
'Needs have changed'
Howard Collins, LU's chief operating officer, said his team were "once again faced with the demand that we withdraw our plans in their entirety before talks can progress".
"We cannot agree to this demand," he added.
"The simple fact is that our customers' needs have changed, with some ticket offices now selling fewer than 10 tickets per hour, and so London Underground needs to change."
But Manuel Cortes, assistant general secretary of the TSSA, said: "London Underground's proposals do not go far enough for us to resume talks, but we are now in contact with Acas to try and resolve some of the more difficult issues between us.
"It would certainly help if London Underground stopped talking nonsense about ticket offices selling fewer than 10 tickets an hour when there are only half a dozen in that position in a network with over 400 booking offices."
RMT leader Bob Crow added: "The ball is firmly in LU's court now.
"This dispute is about safety, safe staffing levels and the quality of customer service, and those issues must be addressed seriously."