Minicab driver jailed for raping passenger in London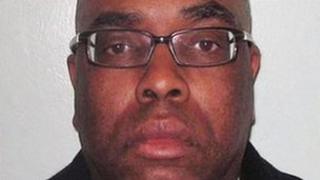 The driver of an illegal minicab has been jailed for eight years for raping a student he had picked up in London.
Astor Murray, 49, was arrested for taxi touting six years after he attacked the woman, and police then matched his DNA to evidence from the unsolved attack.
Murray, from Edmonton, north London, was convicted at the Old Bailey of rape and indecent assault.
"I regard you as a predator," said Judge Ann Goddard. "You saw a young woman and enticed her into your car."
His victim, who was 22 at the time of the attack, said she was approached by Murray at a bus stop and offered a £10 ride home.
But he assaulted her after pulling his car into an industrial estate in Shoreditch, east London, she told the court.
'Awful crime'
She said he locked the doors and she could not leave until he stopped at traffic lights and let her go.
The woman said in an impact statement that she was now afraid of going out alone and would take only black cabs.
"I have not been able to have a relationship with a man since this happened," she added.
As well as his sentence for rape, Murray was jailed concurrently for three years for the indecent assault, and was ordered to remain on the Sex Offenders Register for life.
Det Con Andy Beete, of the Metropolitan Police, said: "After all this time, Murray thought he had got away with this awful crime.
"But after he posed as a taxi driver and got caught, officers matched his DNA to forensic evidence taken from the scene."