Chelsea siege gunman Mark Saunders 'ready to take aim'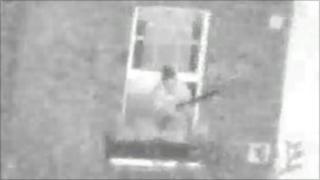 A firearms officer who shot a gun-wielding barrister in London during a siege told an inquest he thought he was ready to "take aim" at police.
The officer, known as AZ 4, said the gun was "pointing upwards" but Mark Saunders was "holding it differently".
The Westminster Coroner's Court heard from another officer, AZ 14, who said he "could not justify" the shooting as the gun was not aimed at officers.
Mr Saunders was shot dead after a five-hour standoff in Chelsea on 6 May 2008.
The siege began after he fired a shot into a property opposite his home.
A "loud bang" followed by a "cacophony of noise" ended the siege in Markham Square with the death of the 32-year-old barrister, AZ 14 - who was not among the officers to shoot the lawyer - told the inquest.
Specialist rifle officer AZ 4 was armed with a G3K weapon and told the court that Mr Saunders was about 15m (50ft) away from police.
He asked a police helicopter to shine a spotlight on him and noticed blood on the gunman's right hand.
Shooting 'not justified'
He said he found it "out of character" for the gunman, who was hanging out of his kitchen window, to change his hand position on the 12-bore gun.
AZ 4, who was in a property opposite Mr Saunders' home, said: "When he came out of the window he was holding the weapon in a different position.
"The barrel was still pointing upwards but his hands were holding it differently, as if ready to shoulder it to take aim."
Officers opened fire at Mr Saunders after he appeared to raise his hand to get the attention of police and the gun dipped once, before it fell again.
When asked why AZ 4 fired, he said: "Because I felt there was an imminent threat to life to other officers in containment positions."
Giving evidence AZ 14, one of the first officers at the scene, said: "If I did not believe the firearm was pointing at anybody I was not going to pull the trigger."
Under cross-examination by Patrick Gibbs QC, who represents the barrister's wife Elizabeth Saunders, he said: "I believe it was pointing diagonally up at the roof top of 45 (the neighbouring property).
"I knew there were no officers present at that location so I could not justify taking a shot."
The court also heard a statement from Pc Michael Westbrook, a CO19 officer who said he feared for his life and his colleagues' safety.
He said Mr Saunders at times held the shotgun between his legs and balanced a phone while holding a glass of red wine.
He was also repeatedly loading and checking the gun while another firearm lay on the floor.
Mr Saunders did not reply when Pc Westbrook told him that officers were trying to call him but instead held messages reading "mum" and "wife".
Earlier the court heard Mr Saunders had not been allowed to talk to his wife.