Hundreds take part in gorilla run through London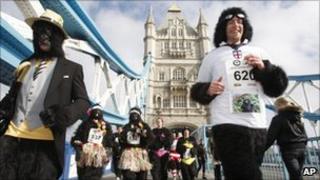 At least 600 people wearing gorilla masks and suits have taken to London's streets to raise money for charity.
Conservationist and TV presenter Bill Oddie fired the starting pistol for the 7km (4.3 miles) Great Gorilla Run, which is now in its seventh year.
The route started at Minster Court and took in the City, Tower Bridge and Tate Modern.
The Great Gorilla Organisation said the runners had managed to raise £150,000 to save the endangered primates.
The charity said it hoped to raise £250,000 in total by the time the sponsorship for the run ended in November.
Oddie said: "There are four species of gorillas and all four are certifiably endangered.
"You would have to genuinely be the biggest killjoy not to go bananas for conservation and support hundreds of daft looking gorillas running around London."