Lawyer Mark Saunders 'shot to protect police officers'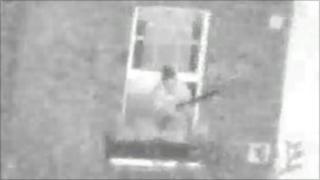 A police marksman broke down as he described how he shot an armed barrister in London to protect himself and his colleagues.
Mark Saunders, 32, was killed at his flat in Chelsea, west London, after a lengthy siege in 2008.
The officer, known as AZ7, said he fired after believing that shots had been aimed towards him.
Fellow officer AZ8 told the Westminster Coroner's Court inquest that he should have opened fire sooner.
AZ7 described how moments before he came close to firing, only for Mr Saunders to raise the barrel thus initially averting being fired at.
He said: "I saw the top of the barrel, the top of the gun starting to descend towards us and I continued to scream at him.
"I thought, 'he is actually going to shoot me'. So I started squeezing the trigger, but it seemed at that moment the barrel went back up again.
"I was so relieved. I released the pressure on my trigger. I wanted to give him every possible chance to drop the weapon, only there is only so far I can go."
The CO19 officer was stationed on the roof of a Bywater Street property which backed on to Mr Saunders' home.
Nicholas Hilliard QC, for the inquest, asked whether Mr Saunders had moved the gun "through the position" where the officer was.
Crucial moment
AZ7 replied: "In my mind, if he wanted to pull the trigger at that point I would have been too late. I would be dead."
During his evidence, coroner Dr Paul Knapman asked the officer, who cried during his evidence given behind a screen, if he needed to sit down.
Describing the moment he opened fire, AZ7 said: "At the point I pulled the trigger, I believed he had already fired. Obviously the barrel came down a second time and as this happened I did not feel like I had much room for error.
"He looked more comfortable and his initial movement with the gun was to settle into his stance.
He added: "As it came down the second time I could see the nostrils pointing at me, the end of the barrel, and I decided to fire my weapon for my protection and the protection of two guys to my right.
"As I squeezed the trigger I do not know why I believed he had fired at me. There was lots of noise, lots of smoke."
The officer told Patrick Gibbs QC, for Mr Saunders' widow Elizabeth, that the police did not have the luxury of simply backing off.
"I had seen the stranded occupants of next door. A woman with a child in her arms.
"In my mind it would have been very easy for Mr Saunders, without explanation or debate, to fire rounds into windows next door."
Mr Saunders' family have previously said that the lawyer did not represent a threat.
Earlier, officer AZ8 told the inquest: "It just got past that point of no return. I have seen the film [of the incident shot from a police helicopter], and I am kicking myself because I feel I left it too late.
"I should have taken the shot the first time he brought it down. I only had a nanosecond to make that decision."
AZ8 said he had been in the conservatory of a property opposite the gunman's Markham Square house and had been about 13 metres away from Mr Saunders as he fixed a spotlight.