Pupil jailed for stabbing friend Gavin Doyle in Croydon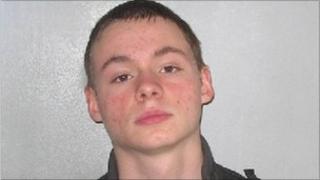 A teenager who stabbed his best friend 13 times "for personal gratification" has been jailed for nine years.
The Old Bailey heard Harry Schick, 17, from Earl's Court, west London, lured Gavin Doyle to woodland in Croydon, south London, in March before striking.
The teenagers were both studying for A-levels at Berkshire's Pangbourne College.
Gavin survived the attack despite a pierced liver and lung. Schick pleaded guilty to attempted murder.
The victim, from Surrey, had wanted to become a Royal Marine and paid Schick £400 to get him an air pistol for target practice, which he was too young to buy himself, the court heard.
Schick agreed to hand the weapon over in Lloyd Park, Croydon.
But when Gavin, who was 16 at the time of the attack but is now aged 17, turned his back Schick produced a large knife and stabbed him repeatedly during an attack that lasted an hour.
Schick then took Gavin's mobile phone and deleted records of contact between them before throwing it on to the injured teenager's chest.
But Gavin used it to call 999 and was taken to hospital, the court heard.
Judge Richard Hawkins said the attack had been "traumatic".
He continued: "What makes it worse is that he considered you as a friend.
"You made it clear during this hour-long attack what your intention was to kill him.
"You took a knife out to meet him in a lonely place, changing your clothing."
'Strange and dangerous'
Dismissing a ban on identifying the young offender, he said: "In view of the gravity of this case the press ought to be free to report it."
The attack left Gavin in intensive care suffering from wounds all over his body.
The injuries may still damage his hopes of joining the Royal Marines.
Schick has since apologised for the attack. The judge was handed letters from both him and his mother.
In her letter to the court, his mother said Schick was "popular" and "well thought of", adding that he had won a prize at school for consideration to others.
'Distanced from reality'
She added: "What has happened is so tragic and incomprehensible."
Benjamin Squirrell, defending, said: "The defendant was not suffering from a mental illness but perhaps he had become distanced from reality.
"He had been living in a different world, detached from his feelings."
Det Sgt Tim Hammond said: "He is a strange character and I think a very dangerous character.
"We have got nothing to suggest any motive other than he wanted to kill the victim for his own personal gratification.
"The victim would almost certainly have died had it not been for the quick response of the London Ambulance Service."