London Underground services resume after strike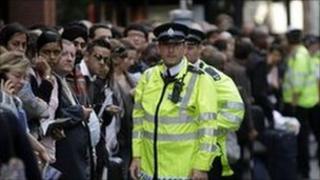 Services on London Underground have resumed after a 24-hour strike severely disrupted the network.
Thousands of RMT and TSSA union members walked out on Sunday in the second in a series of strikes over cuts to 800 ticket office jobs.
The industrial action ended at 1830 BST on Monday and services returned to normal on Tuesday morning.
RMT union leader Bob Crow disputed TfL's claim that 40% of trains had run during the strike.
He said: "The first casualty of war is always the truth."
'Intolerable situation'
Union bosses have written to Prime Minister David Cameron, pressing him to convene talks to resolve the row.
The letter also criticised London Mayor Boris Johnson and said he was not listening to commuters.
Mr Johnson said the strike was "nakedly and blatantly political" and had "nothing to do with health and safety".
David Cameron told BBC London that the government would be looking at what Mr Johnson had to say.
"The London Underground situation is completely intolerable for London commuters," the prime minister said.
Two further strikes are planned for November if the dispute remains unresolved.
The RMT also banned its members from accepting overtime over the weekend in protest at the job cuts.