Jury to decide if Mark Saunders was lawfully killed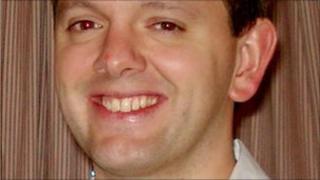 The jury at the inquest of a barrister shot dead in west London after a five-hour armed stand-off has been asked to decide if he was lawfully killed.
Armed police officers shot dead Mark Saunders, 32, after he began firing from his home in Chelsea in 6 May 2008.
Coroner Paul Knapman asked jurors to consider if officers acted lawfully, reasonably and dispassionately.
Jurors must decide if the lawyer "deliberately and consciously" used his shotgun, provoking the police to shoot.
During the two-week inquest the Westminster Coroner's Court heard officers with more than 100 guns had surrounded the property and the lawyer was not allowed to speak to his wife or his friend.
'Unpredictable circumstances'
The jury, which is expected to go out on Wednesday, was asked to answer several questions on the circumstances of the divorce barrister's death.
It was asked to consider:
Whether three fatal shots, to the head, chest and liver, were fired in reasonable self-defence or defence of others
Whether the lawyer "deliberately and consciously took steps with a shotgun"
If police should have given "more detailed consideration" to allow the barrister's wife Elizabeth Saunders or a friend to contact him to resolve the stand-off
Whether there was a "lack of clarity" between two of the senior firearms officers handling the siege
Was "sufficient weight" given to the fact that Mr Saunders, who was drunk at the time, was a vulnerable person?
Giving a summary of the hearing, Dr Knapman said: "Some of the evidence was disturbing and upsetting.
"But it is important you do not allow yourselves to be influenced by sympathy or in any direction by emotion or sadness.
"We also have the advantage of being able to examine decisions closely, to look at film in slow motion and to examine issues in the calm of the courtroom.
"It was not like that at the time. Everything happened much more quickly. Intense, difficult, frightening and unpredictable circumstances. Do not lose sight of that."