Mother's anger over treatment in Azelle Rodney inquiry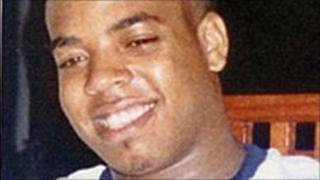 The mother of a man shot dead by police in north London is "sick and tired" of being treated as an "irrelevant nuisance", an inquiry has heard.
Azelle Rodney, 24, was in a car when an officer opened fire in Edgware in April 2005. He said he thought Mr Rodney, of Hounslow, was reaching for a gun.
His mother Susan Alexander's barrister Tim Owen QC said she wanted to know the "good, bad, ugly and painful" facts.
Later Ms Alexander said: "We've been struggling, waiting for answers."
The public inquiry, which opened at the Technology and Construction Court in central London on Wednesday, was adjourned until the first half of next year.
The inquiry has taken the place of an inquest as police refused to reveal secret information that they say led them to believe Mr Rodney was armed.
Inquiry chairman Sir Christopher Holland, a retired High Court judge, said he hoped to hear most of the evidence in public.
He added: "If the time comes when for whatever reason I feel that this cannot be conducted in public or there are parts of it that cannot be conducted in public, I shall certainly have another public hearing to make that apparent.
"At the moment, watch this space."
Ms Alexander's counsel Mr Owen said of his client: "She is apparently destined never to know and understand crucial information that explains the actions of officer E7 that day.
"She is frankly sick and tired of, as she sees it, being patronised, marginalised and treated as an irrelevant nuisance.
"She wants to know all the relevant facts, good, bad, ugly and painful, and regardless of the light they may throw on Azelle's actions that day."
'Same questions'
Following the hearing, Ms Alexander said: "We've been struggling, waiting for answers, trying to find out what happened and why.
"That still remains the same as the first day it happened. I'm still asking the same questions.
"Now at least I know there is going to be a public inquiry. I hope it just gets to the bottom of it to find out the truth."
Jason Beer, for the Metropolitan Police, said the force was giving the "fullest co-operation". Samantha Leek, for E7, said the officer was "willing and able" to testify.
Previously a coroner had said sensitive evidence made an inquest impossible, but Ms Alexander accused police of a cover-up. The inquiry was announced in March by the then Justice Secretary Jack Straw.
Mr Rodney was sitting in the back of the car outside the Railway Tavern in Burnt Oak when he was confronted by armed police at about 2000 BST.
Two men in the front escaped without injury and were later jailed for firearms offences.
Following an investigation the Independent Police Complaints Commission (IPCC) handed a dossier of evidence to prosecutors.
But the Crown Prosecution Service said there was insufficient evidence for a "realistic prospect of conviction" against any officer.