Trains removed after Tube safety checks lead to delays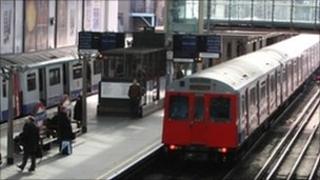 Thousands of London commuters are facing disruption after 12 District line trains were removed following safety checks.
The trains were taken out of service after engineers found suspected cracks on brackets holding the equipment which draws current from the rail.
Checks will be carried out on shoe beam brackets on all 75 trains in the fleet, Transport for London (TfL) said.
A TfL spokesman added the problem was found during routine checks on Tuesday.
He said: "During a routine inspection of our District line train fleet, our engineers discovered that on a dozen trains, a bracket seemed to be cracked.
"Safety is our top priority and, as a precaution, those trains have been removed from service whilst a thorough investigation is undertaken.
"All other District line trains are undergoing testing to ensure that the problem is not more widespread.
"We apologise to passengers for the disruption this is causing this morning, but passenger safety is our top priority and this demonstrates that our safety regime works."
'Lethal gamble'
The Rail, Maritime and Transport (RMT) union said the time period between maintenance checks on trains had been extended to save money, but TfL dismissed the union's claims as "scaremongering".
RMT general secretary Bob Crow said: "We have warned repeatedly that TfL's cuts plans are playing fast and loose with safety and will turn the Tube into a death trap.
"Today we see the reality - dangerous trains being sent out on to 1920s infrastructure in a lethal gamble with public and staff safety."
The union, which has staged two 24-hour Tube strikes to protest against job cuts and safety concerns, said the removal of the trains highlighted issues "at the heart" of the dispute with TfL.