Ten arrests this year over Pc Keith Blakelock murder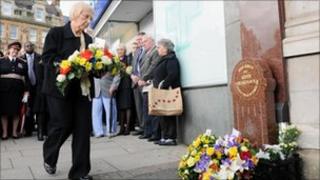 Ten people have been arrested this year as part of the investigation into the murder of Metropolitan Police Pc Keith Blakelock in north London 25 years ago.
The officer was hacked to death during the Broadwater Farm riots in Tottenham.
Three men were convicted of the killing in 1987 but cleared four years later. Those arrested this year are on bail.
Pc Blakelock's widow and sons and Commissioner Sir Paul Stephenson attended a service in Muswell Hill to mark the anniversary of his death.
Officers from Haringey and members of the public also attended the wreath-laying ceremony held at his memorial stone.
Elizabeth Johnson, the officer's widow, laid a wreath which read: "Keith, always in our hearts, from all of your family."
Sir Paul said: "I am here to represent the officers of Haringey and the wider Metropolitan Police Service to honour Keith's memory and renew the pledge that we will do everything possible and within our power to bring to justice Keith's killers.
"We do want to see closure and his family deserve that closure."
A fresh investigation was started in 2003 when new lines of inquiry were identified by a review.
Detectives said they were now beginning to "build a clear picture" of events the night the officer was attacked.
Of the 10 arrests, detectives said one made in Suffolk in March was "significant" and two arrests in May had already been made public.
Most of the arrests were made in north London and it is understood none of the men had been arrested over the murder before.
All the men were in the north London area at the time of the Broadwater Farm riots in 1985.
Pc Blakelock and his colleague Pc Richard Coombes were attacked as they tried to protect firefighters when violence spiralled on the estate.
It was sparked by the death of Cynthia Jarrett, 49, who collapsed during a police raid on her home.
Winston Silcott, Mark Braithwaite and Engin Raghip were convicted of the killing in 1987 but cleared on appeal four years later.
Three youths were also charged with murder but did not face trial after a judge ruled that their questioning was inadmissible.
Leading the latest inquiry, Det Supt John Sweeney said he had promised Pc Blakelock's family "to do my utmost to identify and bring to justice those responsible for killing Keith".