Suspected paedophile 'stabbed to free abuse girl'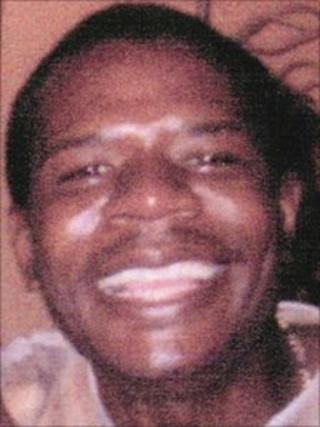 A teenage boy stabbed a suspected paedophile to death after the man grabbed a schoolgirl round the neck, the Old Bailey has heard.
The boy and girl, both 15, went to Robert Daley's flat in Stockwell, south London, after learning prosecutors had dropped a sex abuse case against him.
Within minutes of their arrival he had been stabbed in his side five times.
The teenagers, who cannot be identified because of their age, deny murdering Mr Daley, 45, in April.
Both were 14 years old at the time.
The boy told the court the girl went into the kitchen with Mr Daley and a few minutes later, he heard "choking and grappling sounds".
"I saw him pinning her to the worktop," he said.
"He had his left hand on her throat and his right hand was trying to touch her.
"She was trying to get his hand off her throat and also trying to keep him from touching her."
'Poked him'
A struggle broke out as he tried to pull the girl away and was hit in the face, the boy told the court.
He said he saw Mr Daley reaching for a knife - and grabbed one himself for protection.
"I knew he went to get a knife. I looked round for what I could use as a weapon. I got scared because of all the stories he had told me," he said.
"In the kitchen sink I found a black-handled knife. I assumed he was going to get one and stab us."
"I told him to stop screaming at me. He was not paying any attention," he added.
"His hand was close to the knife - that's when I poked him."
The youth said he continued to "poke" Mr Daley until he was able to free the girl.
The trial continues.