First Great Western rail overcrowding 'getting worse'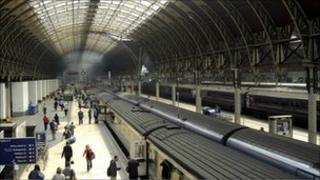 Overcrowding on a train operator's services in and out of London has got worse, according to new figures.
In 2009, 8.2% of rush-hour trains operated by First Great Western (FGW) were officially classed as overcrowded, Office of Rail Regulation data showed.
That figure increased from 6.5% of rush-hour trains in 2008.
FGW operates about 100 trains to and from London's Paddington station in both the morning and evening rush hours.
A spokesman for the rail firm said: "We recognise we need to ease overcrowding on key parts of our network.
"FGW has increased the number of seats on our trains compared to other operators.
"We have recently put forward a series of innovative proposals to help increase the number of customers we are able to carry, to the Department of Transport."
Better performance
Three other south-east England train firms had worse figures for 2009 than for 2008.
Overcrowding on London Midland rush-hour London services rose from 4.8% to 5.9%; London Overground's figures went up from 0.8% to 1.6%; and the Southern company saw figures increasing from 2.7% to 3.0%.
But overcrowding figures for six other London and south-east England train companies were better in 2009 than in 2008.
The Association of Train Operating Companies (ATOC) said: "Train companies are in the business of keeping their customers happy and dislike having to put passengers on to trains which are overcrowded.
"The figures highlight the importance of sustained and targeted investment to ease overcrowding on the railway."