Sugababe Amelle Berrabah's road ban for drink-driving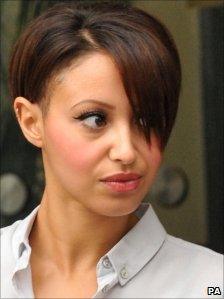 Sugababe Amelle Berrabah has been banned from motoring for 14 months after admitting drinking and driving.
The 26-year-old was sorry for her "exceptionally silly" actions, her lawyer told Highbury Corner Magistrates' Court in north London.
The pop singer was fined £2,000 after admitting driving with excess alcohol.
Berrabah was arrested on 23 September in Camden, north London. She was driving to meet her personal trainer, the day after a night of drinking.
Berrabah was surrounded by photographers as she arrived for the court appearance.
Representing the singer, James O'Brien, told the court that due to the media interest in her she would find it difficult to use public transport.
"Because of her rather unusual situation, her use of public transport will be difficult if not impossible," he said.
"She tends to draw huge interest and huge crowds wherever she goes. She finds that personally quite disturbing and she finds it threatening at times.
"If she were to use public transport she would fear for her own safety and the safety of others."
But District Judge Ian Baker told the pop star: "One can take an awful lot of taxis for the same cost of running such a car for a year."
On 26 September, the singer wrote on Twitter that she had been drinking the night before her arrest but did not realise she was still over the limit when she went out in the morning.
"I'm so sad this has happened to me," she wrote. "I got up to do my normal 6am jog. I'd been out the night before for drinks with friends and got stopped on my way to meet my personal trainer.
"And it was obviously still In my system. I'm sooo angry with myself. I felt fine and had a coffee."
She added: "Why do papers always write horrid stuff on me? I feel like I'm going rock bottom again."
Sugababes, who also feature singers Heidi Range and Jade Ewan, have had a string of hit singles and have survived several line-up changes since forming in 1998.
Related Internet Links
The BBC is not responsible for the content of external sites.