Met rules out compensation for Rachel Nickell family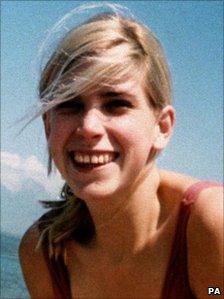 Rachel Nickell's family will not receive any compensation from the police despite failings that could have prevented her murder, it has emerged.
The Metropolitan Police said after "careful and detailed consideration" no payment would be made to her son Alex Hanscombe, 21, and his father Andre.
Alex Hanscombe was aged two when he saw Robert Napper stab his mother 49 times on Wimbledon Common, south-west London.
The Met has publicly acknowledged mistakes in the 1992 murder case.
A report released by the Independent Police Complaints Commission (IPCC) in June found the Met committed "bad errors" and "missed opportunities" to catch Miss Nickell's killer before her death.
It revealed that Napper, 42, was identified as a threat to women in the mid-1980s.
In 1989 his mother contacted police to tell them her son had confessed to a sex attack.
The police could not trace the crime and did not interview him or collect any DNA.
Napper carried out at least four more rapes before killing Miss Nickell in a brutal sex attack in July 1992.
It was only after he killed and mutilated Samantha Bissett and her four-year-old daughter, Jasmine, in Plumstead, south London, a year later that he was arrested.
He was convicted of their murders and sent to Broadmoor in 1994.
Ten years later a DNA link between Napper and Rachel Nickel's body was identified.
In the meantime, Colin Stagg was arrested and later cleared of her murder in 1994, after spending 13 months on remand.
In 2008 he received £706,000 in compensation from the Home Office.
The policewoman who acted as the "honey trap" in the operation to snare Mr Stagg has also been compensated for stress.
In 2008 Napper admitted killing Miss Nickell, pleading guilty to manslaughter on the grounds of diminished responsibility.
Subsequently Miss Nickell's partner Andre Hanscombe made a formal complaint to the police watchdog over failings in the years before her murder, prompting the IPCC report and the Met's apology.
A Met Police statement said: "Failings in the investigation have been publicly acknowledged and the MPS has apologised unreservedly to the Hanscombes for this, both before and after the IPCC investigation.
"After careful and detailed consideration, the decision has been made not to offer any compensation to the Hanscombes."
Kate Maynard, the Hanscombe family solicitor, said she had no statement to make.
Related Internet Links
The BBC is not responsible for the content of external sites.