Snow spades handed out to Camden residents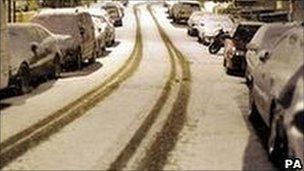 Snow spades are being handed out to residents in north London so they can help keep pavements clear in winter.
In response to the adverse weather conditions earlier this year, Camden Council has bought 2,000 shovels.
The wooden-handled, plastic-bladed spades will be given to community groups or individuals, such as shopkeepers, who request them.
The council said it would still clear major routes but the spades were for people to clear their own areas.
Sue Vincent, from the council, said the move was a reflection of the type of people living in Camden.
She said: "They are incredibly considerate to each other, they are interested and there is demand."
Related Internet Links
The BBC is not responsible for the content of external sites.