Man jailed for life for killing girlfriend Aliza Mirza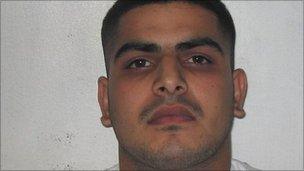 A teenager has been jailed for life after changing his plea to admit stabbing his girlfriend to death.
Yahya Gul pleaded guilty to murdering Aliza Mirza, 17, in Forest View Road, Manor Park, east London, on 3 April.
Gul, 18, of Charlbury Gardens, Ilford, east London, had initially denied the killing but changed his plea at the start of his trial at the Old Bailey.
Aliza, who lived in Ilford, died when she was stabbed in the neck. Gul was sentenced to a minimum of 12 years.
Aliza suffered a fatal wound to the right side of her neck and was also stabbed in the chest and upper abdomen. She was left to bleed to death, the court heard.
No-one witnessed the attack but a man had seen the pair arguing minutes before the incident.
The killer, who was 17 at the time, went to a club in Shaftesbury Avenue with friends after the stabbing.
He also lied about the attack and asked his father to drive him to Dover so he can flee the country. He told his father he had been in a fight with a man who died, the court heard.
John McGuinness QC, prosecuting, said there was intention to kill, rather than to injure the victim.
A victim impact statement from Aliza's father, Munir Mirza, was read in court.
In it he said: "Aliza was taken from us at the prime of her life, in the most savage, vicious and violent way. To have to bury your child is the most unnatural thing, one that no parent should ever have to experience.
"I will not judge the man that has taken my baby girl, I am a respectful man and believe that justice will prevail. However, I do have one question that I want to ask him: 'Why did you kill my daughter Aliza?'"
Related Internet Links
The BBC is not responsible for the content of external sites.