Saudi prince 'had a gay massage' before hotel 'murder'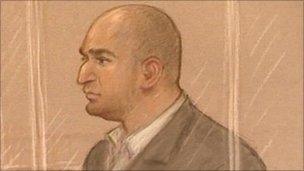 A Saudi prince accused of murder received an "erotic" massage from a gay masseur, the Old Bailey has heard.
Saud Abdulaziz bin Nasser al Saud, 34, admits the manslaughter of servant Bandar Abdulaziz in central London's Landmark Hotel, on 15 February.
But he denies murder and a separate count of causing grievous bodily harm with intent.
Mr Al Saud insists he is not gay - but male masseur Louis Szikora said he gave the prince a two-hour "sexual massage".
The massage is said to have happened three days before Mr Abdulaziz, 32, was found strangled in an alleged murder with a "sexual element".
The court was told Saud Abdulaziz bin Nasser al Saud had carried out several assaults on the victim before he died.
When the body was found the prince claimed his aide had been attacked and robbed three weeks before his death.
But the jury was told Mr al Saud carried out the killing - and injuries including bite marks to Mr Abdulaziz's face showed the "ferocity of the attack to which he had been subjected".
The court heard that before the massage the prince and his servant drank a bottle of Moet champagne and six shots of Sex on the Beach cocktails.
Mr Szikora called the prince "very dashing" and a "thorough gentleman".
He said: "The man I met ultimately did want sexual massage but it is like mixing Nigel Havers with Omar Sharif. You have to build some rapport. You don't walk in the door and then jump on them.
"I don't know what's on their mind. They could be nervous."
He explained: "Middle Eastern gentlemen are not as open about what they want as people in the West, so I have to build that kind of rapport.
"Once I felt the rapport was warm I felt able to continue."
The masseur said that Mr Al Saud had requested him personally after seeing him on an "extremely homoerotic" website.
He added that both of them were naked by the end of the massage.
But John Kelsey-Fry QC, defending, suggested he may have got Saud "confused with some other client".
Mr Szikora said: "I don't agree. He told me he is called Saud."
Related Internet Links
The BBC is not responsible for the content of external sites.