Roma children 'fund gangster luxury'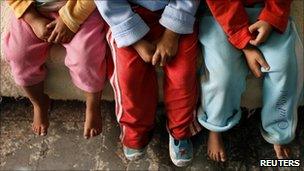 A three-year-old was badly bruised and had suffered facial injuries. Other children had burns on their bodies. A girl, aged just 12, was found to be pregnant.
The 28 children rescued during Metropolitan Police raids in Ilford, east London, presented a truly pitiable sight.
But the youngsters, believed to have been forced into a Romanian-based Roma gang of beggars and pickpockets, can generate £100,000 annually from their activities, according to the police.
And virtually all of the proceeds make their way back to southern Romania - to towns where huge houses have sprung up and prestige cars line the streets.
The NSPCC's John Cameron said: "Unscrupulous traffickers control and terrorise vulnerable children within the UK.
"When the police find these children, they need to provide immediate protection to help them overcome their ordeal."
But how do such youngsters fall into the hands of organised criminals?
"One of the biggest challenges for people in poverty is how to get out of it," explained Supt Bernie Gravett of the Metropolitan Police, who led Tuesday's raids.
"Some people fall for false promises their children will be make money overseas. Sadly other parents are complicit.
"Then we find these children on the streets of the UK being forced to beg and steal."
Other Romanian parents find themselves bonded by debt, their offspring forced into criminality on the other side of Europe to pay the dues.
Supt Gravett explained: "Gangs approach poor families. They are told their children will be taken abroad but they will receive money in return.
"However the gangs charge for transportation. The gang agree to pay initially but charge extremely high interest rates on the loan."
The Met says it often sees one youngster getting arrested, shortly to be followed by another sibling and eventually an entire family.
They may be beggars - but the sums they can generate are astronomical.
Supt Gravett said: "Some children earn £300 a day. The gangs value one child at £100,000 a year."
Astonishingly, the most high-performing children are often sold between gangs in the manner of Premiership footballers.
Christine Beddoe, director of children's rights charity Ecpat UK, said: "That is exactly what it is like.
"If they are good, the children are traded between gangs.
"It is like the Faganism of children trained to be pickpockets in the 19th Century."
Romanian police estimate 1,000 children have been trafficked from the country in recent years, with about 180 in the UK.
But while the children are kept poor, the criminals exploiting them build lavish mansions on the proceeds.
Ms Beddoe has visited Tandarei, the Romanian village where gangs allegedly linked to Tuesday's raids are based.
She said: "Tandarei is relatively small and impoverished. But the criminals have lives of luxury.
"There is a juxtaposition between the villagers living in shanty town huts with unmade roads and horse-drawn carriages. They live as if it was hundreds of years ago.
"Then you have criminals in Gypsy palaces; you see high-value cars, many with British number-plates."
Supt Gravett, who visited in April to help the Romanian police target the ringleaders, said: "The latest house being built is for half a million euros.
'Stereotypes and assumptions'
"Some have 14 bedrooms and they are status symbols.
"It is a show of wealth - they want poor people to think, 'If I send my children abroad I could live in a place like this'."
A spokeswoman for London-based Roma Support Group said she was aware of frictions in Ilford, but insisted many Roma families there were simply the victims of prejudice.
She said: "Only too often when it comes to Roma the full account of the story is dismissed. What is not clear is the range of stereotypes and assumptions that are made."
Related Internet Links
The BBC is not responsible for the content of external sites.