Gold jewellery thieves target Asian festivals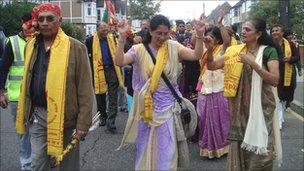 Jewellery thieves are likely to target Asian women in the street and burgle homes during the religious festival season, Metropolitan Police have warned.
Jewellery thefts rise during this time of year coinciding with the start of many Asian festivals, including the Hindu celebrations of Navratri and Diwali, police say.
Ch Insp Nick Davis said the community needed to be extra cautious as women wearing expensive traditional gold jewellery were often robbed.
He said: "During the religious festival season and the run up to Halloween and bonfire night, we experience higher levels of anti-social behaviour and higher levels of burglaries in the home where jewellery is stolen from the property.
''Asian women are a particular target because of the expensive gold jewellery that they wear, often in public as they attend the religious celebrations.''
Meera Mahajan, 46, from West London was robbed on the doorstep of her home in Hounslow, West London.
She said: "My handbag and all of my jewellery were snatched from me as I stepped out of my house. I was wearing a lot of expensive gold and all of it was stolen in seconds right outside my home.''
She added: ''There are many stories where women have had their gold taken from them, some of them have been burgled at home, others have had it taken from them on the streets or from their cars.''
The Metropolitan Police said the Asian community, and wider community in general, must be vigilant over the next couple of months.
Ch Insp Davis said a number of precautionary steps could be taken to protect individuals from becoming targets.
He said: "We are trying to get people to leave their homes so that it looks as though someone is in.
"Also, any jewellery kept in the house should be stored in a safe place and locked up if possible.
"Individuals also need to be careful of what they leave in their car, any valuables should be taken with them.
"It's also important not to advertise any gold that is being worn, so people are advised to cover up when they leave the religious festivals so that they are not showing large quantities of jewellery.''