Babies born in King's College Hospital waiting room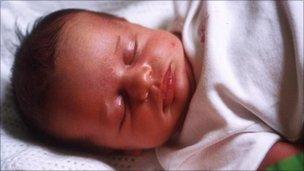 A south London hospital has admitted that some women have had to give birth in a waiting room because of a shortage of beds in its maternity unit.
King's College Hospital said such births were very rare, with no waiting room deliveries at all since July.
Pressure group London Health Emergency said the situation should not have been allowed.
The hospital said it had taken action to increase capacity, including taking on extra staff.
A hospital spokesman said these actions should reduce the chance of babies being delivered in the waiting room in future.
But the spokesman could not say when in 2010 babies had begun to be delivered in the waiting room or how many times it had happened.
Geoff Martin from London Health Emergency, which campaigns to protect NHS services, said: "We should not have a situation where women are forced into the indignity of giving birth in waiting rooms."
A King's College Hospital spokesman said: "On very rare occasions, when women attended the unit in the very final stages of labour, they had to give birth in the waiting area because all the delivery rooms were full.
"This was recognised as a serious problem and immediate action was taken to reduce the chance of it happening in the future."
Related Internet Links
The BBC is not responsible for the content of external sites.