Grit stockpiled in south London for snowy winter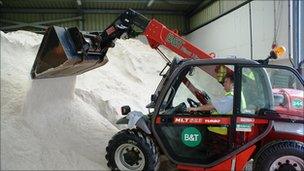 Residents in south London are being offered free grit to cope with snowfall after predictions of another "white-out" winter in the city.
Sutton Council has stockpiled 2,000 tonnes of grit, with 10kg available to each resident to keep paths and driveways clear.
Grit, which is mainly composed of rock salt, lowers the freezing point of moisture to stop ice forming.
Heavy snowfall last winter brought parts of London to a standstill.
It was the heaviest snow for 19 years and the coldest temperature for three decades.
Councillor Colin Hall said: "We have been preparing for months to ensure that the borough is in the strongest possible position to react to the next period of extreme weather.
"People have identified the streets most vulnerable to snow and ice, which is why we have doubled the number of grit bins and sited them where they are needed most."
Related Internet Links
The BBC is not responsible for the content of external sites.