London fire engines withdrawn amid strike threat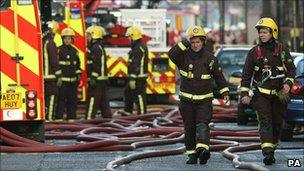 London Fire Brigade has withdrawn 27 fire engines from stations across the capital under contingency plans to deal with a possible strike by firefighters.
The Fire Brigades' Union (FBU) will announce on Thursday whether its members in London have voted to support walkouts in protest at new contracts.
The FBU said the withdrawal of the engines would inflame the dispute.
London fire commissioner Ron Dobson said: "This is not a decision that has been taken lightly."
He went on: "Even at this late stage I am urging firefighters to consider the effects strike action might have.
"London's fire authority has a legal duty to provide a fire and rescue service at all times, including during a strike."
The FBU said the 27 fire appliances, nearly a fifth of the entire fleet, would be used to try to break any strike.
"There are huge implications for public and firefighter safety," a spokesman said.
"Staff have not been informed of any new mobilising arrangements. It will cause huge confusion.
"It's a provocative move which will inflame the situation, especially as negotiations are ongoing."
The brigade said many engines were used each day for training purposes while others were taken out of service for maintenance, adding: "The capital still has the cover it needs to deal with emergencies."
Related Internet Links
The BBC is not responsible for the content of external sites.