Authorities bill may give London councils new powers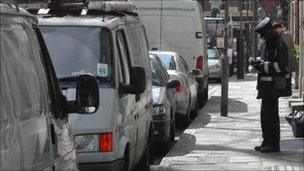 A bill that will give local authorities in London a range of new powers is a step closer to becoming law after clearing its first Commons hurdle.
The London Local Authorities Bill would help councils issue fines to the public and clamp down on rogue traders.
Unusually, it was introduced in the House of Lords, and has already passed all its stages in the Upper Chamber.
Personal liberty campaigners said the bill was a move into "dangerous waters".
But all major parties backed the legislation, which was given a second reading by 293 votes to 21.
The legislation was backed despite one Conservative minister voicing concerns over it.
Require people issued with penalty charge notices - for example over littering or parking - to provide their name and address to council officers
Allow councils to recover the cost of street cleaning from polluting traders
Require fast food sellers to display their hygiene rating and allow councils to crack down on unlicensed car dealers
Conservative MP Mike Freer said: "Many of us in this house would like to turn back the clock to a gentler age, but sadly we do live in an irresponsible society where many individuals cause problems for residents.
"Many of us would prefer a reduction in regulation and a lessening of the intrusive nature of government - both national and local.
"However, we do have a responsibility to address the real issues facing Londoners."
Conservative Local Government Minister Bob Neill said some measures in the Bill needed closer examination.
He cautioned: "We have to be proportionate and avoid the proliferation of fines for what might be perceived as genuinely minor breaches and which might create in the public a sense of unfairness.
Shadow local government minister Chris Williamson (Labour) said: "This bill has already been agreed by all 33 of the London local authorities.
"London councils are controlled by all three of the main political parties.
"On this bill they speak with one voice."
Neil Herron, who became known as the "metric martyr" after defying EU regulations on selling produce under the imperial weight system, criticised the Bill.
He said: "We are entering into dangerous waters when we are giving council officers these powers.
"We need to go back to the fundamental principle that you can only be fined in a court of law.
"They will be fining us for standing on the cracks in the pavement next."
Related Internet Links
The BBC is not responsible for the content of external sites.