London firefighters vote for strike action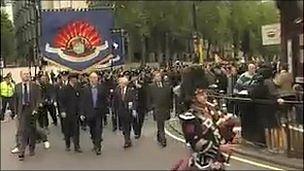 London firefighters have voted in favour of strike action in protest at proposed changes to working conditions.
The Fire Brigades Union (FBU) said 79% of its members who voted had supported strike action.
The union said it had given London Fire Brigade until 1500 BST on Friday to drop plans or it would announce strike dates.
The dispute centres on plans to scrap current working hours and force fire crews to sign new contracts.
The London Fire Brigade says changes are necessary to maximise public protection given limited resources.
"Firefighters hate going on strike - but they hate being bullied even more," said FBU general secretary Matt Wrack.
"This vote demonstrates that London firefighters will fight these mass sackings every step of the way. The London Fire Brigade now needs to lift the sacking notices and start negotiating properly."
Brian Coleman, chairman of London Fire and Emergency Planning Authority, said: "It's disappointing and saddening that the only losers in all of this will be firefighters.
"A strike by the FBU will be unnecessary, unjustified and viewed unsympathetically by Londoners. This dispute centres on proposed changes to make people safer."
London Fire Commissioner Ron Dobson said: "Our contingency plans will of course now move forward to ensure the capital is protected during any period of strike action by the FBU."
Related Internet Links
The BBC is not responsible for the content of external sites.