London Underground denies RMT union claims of job cuts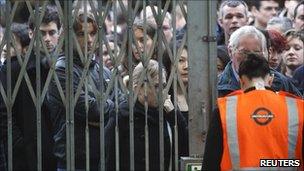 Transport bosses have rejected as "scaremongering" union claims that hundreds of maintenance jobs on the network are to be axed.
Transport for London (TfL) has already announced some 1,200 jobs in ticket booths and back offices are to be cut, saying reform is necessary because of the financial climate.
Now the RMT union claims London Underground (LU) is planning hundreds more cuts, taking the total to more than 2,000 job losses.
But TfL has denied any more cuts are planned.
There have already been two 24-hour Tube strikes over the cuts to ticket office jobs.
The RMT claims the cuts were revealed at a meeting on Thursday morning between LU and union leaders.
They say under the plans maintenance on the network would happen every 28 days instead of every 14 days, allowing for less staff.
The union said vacancies would not be filled and temporary contracts will be terminated.
General secretary Bob Crow said: "Hundreds more safety-critical maintenance posts are on the line with even more to come as the headline figure on the Tube jobs massacre pushes well over the 2,000 mark.
"This underlines the depth of the crisis that the mayor and LU have plunged the network into.
"There is no corner and no safety-regulation that they won't cut in order to deliver their de-staffing agenda."
The RMT did not give an exact figure for its claims of more job losses.
A TfL spokesman said: "This is not true and is further scaremongering by the RMT.
"There are no new proposals to cut operational jobs or front-line maintenance jobs at LU.
"Safety is our top priority and we continue to encourage the RMT and TSSA unions to share their concerns regarding any safety issues as a result of operational changes."
Related Internet Links
The BBC is not responsible for the content of external sites.