'Murdered' Saudi servant had unusual bite marks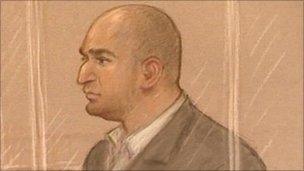 A servant allegedly murdered by a Saudi prince in a London hotel had bite marks to his cheeks of a pattern not seen before by an expert, a court has heard.
Considerable force must have been used to cause the injuries to Bandar Abdulaziz within a few hours of his death, odontologist Alfred Martin said.
Defendant Saud Abdulaziz bin Nasser al Saud, 34, cannot be ruled out as the perpetrator, he told the Old Bailey.
The defendant admits manslaughter but denies murdering Mr Abdulaziz, 32.
Dr Martin said a "small physical feature" of the prince's upper teeth corresponded with the bite on the right cheek.
He told the jury motivations for bite injuries were generally either aggressive, defensive, or had a "sexual connotation".
He said of the injuries to Mr Abdulaziz: "I would go as far as to say the bite on each cheek in an adult male is an unusual pattern.
"I cannot remember seeing it before. It is not a pattern one would expect in a purely aggressive situation."
In addition to the "definite" bite marks to the cheeks there were also "possible" bites to the victim's ears, Dr Martin said.
Mr Abdulaziz was found dead on 15 February at the suite at the Landmark Hotel where he had been staying with the prince.
Mr Al Saud is accused of killing him in a ferocious attack with a "sexual element".
The prince also denies a count of causing grievous bodily harm with intent.
The trial has been adjourned until Friday.
Related Internet Links
The BBC is not responsible for the content of external sites.