Jelly Baby sculptures displayed in London's Marble Arch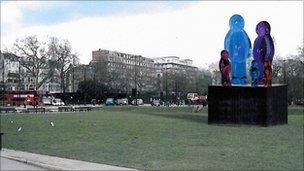 A family of colourful jelly baby sculptures standing up to 10.5ft (3.2m) high is set to brighten up London's West End.
Westminster Council has given the go-ahead for the unique art installation in central London's Marble Arch.
The Jelly Baby Family is the work of sculptor Mauro Perucchetti.
The statues are part of the City of Sculpture Festival which will include installations donated by some of the world's leading galleries and artists.
The "father" is the largest of the colourful jelly baby figures, while the smallest of the jelly babies, the "child of the family" will be 7.5ft (2.3m).
It has not been confirmed when the sculpture will be displayed from but it will remain on display until April 2011.
"Marble Arch was for too long a forgotten landmark, but now stands proud as a gateway to the West End and is a destination in its own right," said Councillor Robert Davis, the Conservative-led Westminster City Council's deputy leader.
"The Jelly Baby Family will only add to its appeal and will no doubt bring a wry smile to visitors."
Paul Green, president of Halycon Gallery, which is supplying the sculpture, said: "To position Mauro Perucchetti's Jelly Babies as a public sculpture in Marble Arch is exactly where the artwork should be.
"I think the resonance of these figures will generate a brilliant reaction from the public."
Related Internet Links
The BBC is not responsible for the content of external sites.