Heathrow deportation man 'had no reason' to die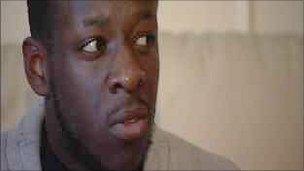 The son of an Angolan man who died at Heathrow Airport as he was being deported from the UK has said there was no reason "for anything to go wrong".
Jimmy Mubenga, 46, fell ill on Tuesday as he was escorted by security guards on a plane in west London.
A post-mortem has proved inconclusive and further tests will be held to establish how he died.
Mr Mubenga's 16-year-old son Roland said he was "angry and upset" and claimed "it wasn't a natural death".
"I don't see why there'd be any reason for anything to go wrong," he told BBC London.
"My dad was healthy - he never had any internal problems or anything."
Roland Mubenga said his father was "strong and healthy" and was "always loving".
"I couldn't ask for any way to improve him as a father," the student added.
"I don't know what we're going to do. We're going to have to cope but we're never going to forget.
"I'm just sorry for my [baby] sister the most because she's going to grow up not knowing who my dad is, just looking at pictures."
Mr Mubenga became unwell as he waited for the plane to leave Heathrow and was taken to the nearby Hillingdon Hospital, where he died.
A Metropolitan Police spokesman said the death was being treated as "unexplained", adding: "At this early stage, we believe the deceased was being deported from the UK under escort by civilian security guards.
"Inquiries continue to establish the full circumstances of the incident."
BBC Home Affairs correspondent Danny Shaw said Mr Mubenga was being escorted by staff from the private security firm G4S.
It declined to say whether any action had been taken against staff.
The death is also being investigated by the Prisons and Probation Ombudsman.
Related Internet Links
The BBC is not responsible for the content of external sites.