Police seek clues on 1998 murder of Nijole Siskeviciene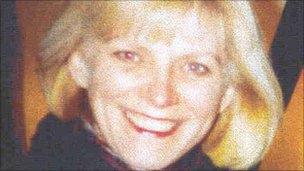 Police are trying to trace the writers of two anonymous letters in a bid to solve a 12-year-old murder case.
Nijole Siskeviciene, 44, from Lithuania, was found dead in Wembley, west London, in 1998. She had been strangled.
After the killing, two people wrote to police saying they had seen her body being moved by two men.
But neither of the writers came forward and police believe they could help solve the mystery.
Her son Vytautis Siskevicius has campaigned for justice for his mother.
"My mum was murdered such a long time ago and I really need to know why this happened to her," he said.
He added: "My mum never met my girlfriend and she would have loved to spend time with my daughter, her granddaughter.
"She was always the one who gathered all the family together at Christmas and since she has gone the family have not done that."
Ms Siskeviciene, who was divorced and said to have very little money, had come to the UK to work in the hotel trade, but began to suffer from depression.
The first letter received by police described a woman being carried out of a house by two black men and put into a car.
It ended: "I am not much help, am I, I am too old, I am afraid to go outside my door."
The second letter described two men lifting a woman wearing blue jeans and a blue jumper.
The writer said: "Sorry, I do not want my family in this sort of thing."
Det Supt Keith Niven said: "I know that originally they [the writers] did not want to speak to police, but the passage of time may now mean that people feel able to come forward.
"Anything said can be treated in the strictest of confidence. Their evidence could be absolutely vital."
Related Internet Links
The BBC is not responsible for the content of external sites.