Prime Minister unveils memorial for Met officer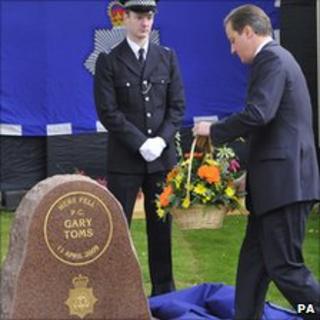 David Cameron has unveiled a memorial to Metropolitan police officer Gary Toms who died in the line of duty.
Pc Toms, 37, suffered severe head injuries trying to stop suspects after a robbery in Dagenham, east London, on 11 April 2009. He died in hospital six days later.
The prime minister said he had "unbelievable guts".
A memorial stone was unveiled in Ashlin Road, Leyton, where the officer fell and hit his head.
'Real courage'
Mr Cameron said: "I know there are many of his colleagues here from the firearms unit who deal with dangerous situations day in, day out.
"But for the rest of us I think it is really important to properly reflect on what he did - pursuing dangerous criminals with speed, not knowing how they were armed, not knowing what might happen.
"Doing a job like that takes unbelievable guts, it takes dedication and it takes real courage."
Pc Toms' mother Theresa and sister Nicola laid flowers by the side of the memorial with a card which read: "Gary, a beloved son and brother.
"Always loved and never forgotten."
The police officer's widow Clair also placed flowers at the site with a note which read: "Dearest Gary. All my love, Clair xx."
'Mixed emotions'
Pc Toms' family was joined by about 200 guests at the unveiling ceremony on Monday, including police officers, politicians and other dignitaries.
Film director Michael Winner, chairman and founder of the Police Memorial Trust, said it was right that the landscape of Newham should change "just a little" to accommodate a permanent memorial to Pc Toms.
Met Commissioner Sir Paul Stephenson said the unveiling of the monument marked a day of "mixed emotions".
Four people arrested following the incident Pc Toms was dealing with were later jailed for robbery, a Met Police spokesman said.