Wife murdered and mutilated 'for wanting divorce'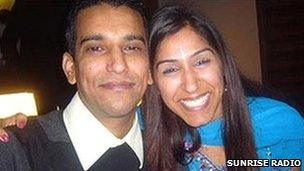 A man arranged the murder of his wife in west London after she began divorce proceedings, the Old Bailey has heard.
Mother-of-two Geeta Aulakh, 28, had her hand severed as she was killed in a street in Greenford last November.
Her husband Harpreet Aulakh, of Greenford, denies offering £5,000 for her killing.
Sher Singh, 19, of Southall, west London; Harpreet Singh, 20, of Slough, Berkshire; and Jaswant Dhillon, 30, of Ilford, east London, also deny murder.
The court heard that Mr Aulakh told a room of men he was willing to pay for his wife - a receptionist at a radio station - to be killed.
A divorce "would not be tolerated", prosecuting QC Aftab Jafferjee added, alleging that Mr Aulakh ensured he was in a pub with CCTV cameras at the time of the murder so he had an alibi.
Mrs Aulakh was attacked by a group of men who "knew exactly where to wait and when to be there", Mr Jafferjee told the court.
"There were three of them - albeit only one would hack her to death.
"So savage and determined was the mission to kill her that when she sought to protect her head, her right hand was completely severed from her arm.
"The man who organised this murder was none other than her own husband," he alleged.
"He planned it. The other three defendants executed it."
Related Internet Links
The BBC is not responsible for the content of external sites.