Two men jailed for poisoning wildlife on Wanstead Flats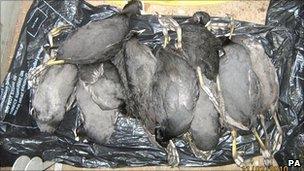 Two former Newham Council workers from east London have each been jailed for four months and fined £7,000 for poisoning wildlife at a park.
Terrence Webb, 28, of Ilford, and Mark Page, 35, of Romford, left bread laced with pesticide at a lake on Wanstead Flats, killing 90 birds and a dog.
The lake had to be sealed off for three weeks in March to protect the public while tests were conducted.
The men have been sacked from their jobs as pest-control officers.
Snaresbrook Crown Court heard how the pair went to Alexandra Lake during their lunch hour on two consecutive days.
Later they boasted of leaving poisoned bread and told how crows had swallowed the bait and had then died.
A German Shepherd dog owned by a local resident was also killed.
The chemical used by the pair was found to be a pesticide used to tackle cockroaches and fleas.
Pc David Flint, of the Wildlife Crime Unit at Scotland Yard, said the men "showed a complete disregard for public safety with the indiscriminate use of dangerous chemicals".
"They derived personal amusement from the death of birds and caused the death of a pet dog," he added.
"It is small consolation following the destruction caused that these men were brought to justice."
Related Internet Links
The BBC is not responsible for the content of external sites.