Tube passengers forced to walk off train in Underground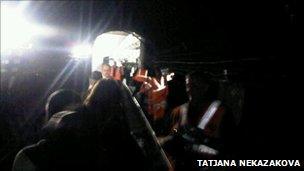 Tube passengers were stuck in a broken-down train for two hours and forced to walk through a tunnel for a second day.
Commuters endured another day of misery when services were delayed, disrupted or cancelled on parts of the network.
London Underground apologised for disruptions and admitted customers "deserved better", while unions claimed the Tube was in "crisis".
The delays followed Monday's Jubilee Line power failure, which led to passengers being stranded.
Four hundred passengers on the Victoria Line were walked off their train at about 1100 BST after it broke down for two hours in a tunnel between Seven Sisters and Finsbury Park.
Three trains stuck behind had to be reversed.
Passenger Tatjana Nekazakova said: "We were stuck down there for two hours and a pregnant woman was getting upset. Luckily someone had water that was passed around."
London Underground's managing director Mike Brown said passengers "deserve much better than the service they have had in recent days and all our energies are focused on delivering a fast, reliable and safe service".
He went on: "I know that having to walk along the track through a tunnel is distressing.
"It is not something our customers should have to expect, and is something we always seek to avoid.
"Nevertheless, on the rare occasions when a train is stuck in a tunnel, as soon as it becomes clear that we will not be able to arrange for it to be moved within a reasonable timescale, the safest and best option is to take customers off of the train."
There were delays on other parts of the Tube system on Tuesday, including the Northern and Circle lines, because of signal failures and track problems.
The National Union of Rail, Maritime and Transport Workers (RMT) said a continuing ban on overtime by thousands of workers in a long-running row over job cuts was having an effect on services.
The union, and the Transport Salaried Staffs Association (TSSA), has already held two strikes and is threatening fresh walkouts on 2 and 28 November claiming Transport for London was now planning to cut almost 2,000 jobs.
Talks between the two sides were held on Tuesday at the conciliation service Acas.
RMT leader Bob Crow said: "Once again this morning the transport system in London has been reduced to chaos through a combination of mismanagement, financial cuts and a withdrawal of goodwill by Tube staff who are furious at the ongoing threat to another 2,000 jobs.
"Those job losses would plunge travellers even deeper into the black hole of unsafe and unreliable services."
In a separate development, the RMT announced that Tube maintenance staff would begin industrial action short of a strike from Tuesday 26 October, after they voted in favour of the move in a row over spending cuts.
A spokesman said: "This means staff will not 'act up' and only work to booked instructions. They will only do what they're told, they won't use their initiative."
Related Internet Links
The BBC is not responsible for the content of external sites.