Hugh Hefner's Playboy club to reopen in London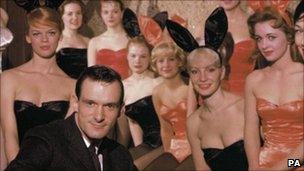 Adult entertainment company Playboy is to open a nightclub in London - 30 years after its previous celebrity-frequented venue in the city shut down.
The original venue, in Park Lane, was visited by Sean Connery, Michael Caine, Joan Collins, George Best, Roger Moore, Jack Nicholson and Muhammad Ali.
But it closed down after being affected by tighter gaming laws.
Feminist writer Laurie Penny criticised the reopening, calling Playboy "wilting, impotent and dated".
The new club will be in Mayfair and is due to open in 2011.
It will feature a restaurant, lounge and gaming rooms.
Playboy founder Hugh Hefner said: "When we first opened the Playboy Club in London it was one of my favourite times for the brand.
"I look forward to our return to London and again sharing the notions that are celebrated in the magazine - the concept of good food and drink, pretty girls, and exciting entertainment."
But Ms Penny, who writes for the New Statesman, said: "The Playboy empire is wilting and impotent - its bunny branding is a tired, dated rehearsal of sterile stereotypes of femininity, all bouncy smiles and submission.
She added she thought the club relaunching showed "how frigid and anti-sex, as well as how anti-woman" society was becoming.