Yusuf Arslan jailed for Tottenham murder attempt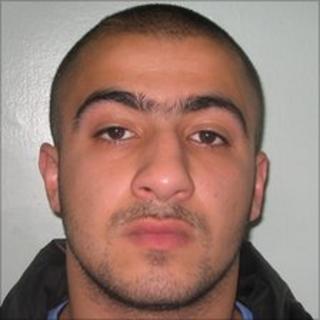 A Turkish decorator who opened fire on two men with a sub-machine gun as part of a feud between rival north London gangs has been jailed indefinitely.
The victims were driving in Tottenham in September 2009 when their path was blocked by a silver Vauxhall Corsa, Kingston Crown Court heard.
Yusuf Arslan, 20, of Edmonton, got out and opened fire, wounding one man.
Arslan, who denied attempted murder and possessing firearms with intent, was jailed for a minimum of 10 years.
The judge said he would not be released until it was decided he no longer presented a danger to the public.
Arslan was initially questioned over the attack but released on bail, police said.
'Serious criminality'
Officers then stopped him in a car leaving a massage parlour. He was wearing a bulletproof vest and had a handgun.
Another man, Emre Kamalak, 24, of Tottenham, pleaded guilty to possession of a firearm with intent to endanger life and possession of ammunition with intent to endanger life.
He is yet to be sentenced.
The gun used in the attempted murder proved to be an Agram sub-machine gun, police said.
Det Insp Colin Douglas said the men presented "a life-threatening risk, not only to those they target, but to innocent members of the public".
He continued: "Arslan and Kamalak were clearly engaged in serious criminality that day and would have succeeded in their venture had they not been apprehended by police."