Westminster council criticises Parliament Square plinth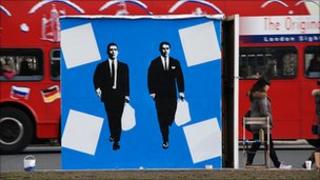 A council has said a protest group are creating "an eyesore" by erecting a 7.9ft (2.4m) high plinth to display art on Parliament Square.
Westminster council said the protesters did not have planning permission for the plinth.
But Marie Gallastegui, 51, from protest group PeaceStrike, said she believed the law was on her side.
The plinth is on the pavement next to the grassed part of the square that protesters were evicted from in July.
Ms Gallastegui said she believed she was allowed to use the plinth under the terms of the Serious Organised Crime and Police Act 2005.
The Metropolitan Police (Met) said the Act allowed an area of the square to be used for protests "as long as they do not commit a criminal offence".
'Hijacking' square
Peace protesters who had been camping on the main grassed area in Parliament Square since May were evicted in July after London Mayor Boris Johnson took legal action to remove them.
However, Mr Johnson does not have authority to remove protesters from the pavement which is owned by Westminster Council.
Westminster Council has called on Parliament to give it greater powers to remove protesters from the pavement in front of the grassed area of the square.
A spokeswoman said: "We do not support small, vociferous groups turning a Unesco world heritage site into an eyesore.
"We will closely monitor this latest development to ensure no further damage is caused or Londoners inconvenienced further."
Councillor Colin Barrow, leader of the Conservative-led authority, said: "We have been calling for a change in the law as we feel that the hijacking of Parliament Square, which has continued on the pavement even after the protesters were removed from the square itself, needs to finally be brought to an end."
Benjamin Moore, from art agency Art Below, which is encouraging its database of 20,000 artists to submit works for the plinth, said: "The square is a prime spot to voice a positive and creative message."
PeaceStrike has called on artists to submit artworks that "reflect the notion of peace" which it intends to display on the plinth in monthly periods until January 2012.
"What better place to exhibit art for peace but facing the seat of the British government?" a PeaceStrike spokeswoman said.