BBC newsreader Jon Sopel breaks hip in scooter crash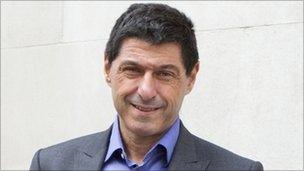 Newsreader Jon Sopel has broken his hip in a crash on his motor scooter on his way to Westminster to front the BBC's Spending Review coverage.
The 51-year-old's scooter skidded on wet leaves and he fell on to the road on Wednesday morning.
Passers-by offered Sopel help but he thought his injury was not serious and continued his journey to Westminster.
It was only when the pain became unbearable that he headed for a central London hospital, he said.
"I thought I had just given myself a dead leg at first and that the pain would ease - but it didn't; it became unbearable."
In a statement the BBC said: "He was desperate to be part of such an important day in the political calendar, but instead went into surgery just as prime minister's questions were starting and came round after George Osborne had sat down.
"The operation was successful and Jon is now recovering in hospital.
"He has been told he will probably need several weeks to recuperate before returning to work."
Sopel presents the Politics Show on BBC One and presents on the BBC News Channel.
Related Internet Links
The BBC is not responsible for the content of external sites.